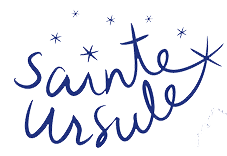 Ecole privee Sainte-Ursule - Collège et Lycée
Sainte Ursule – Louise de Bettignies is a school from the Ursulines of the Roman Union. It is a Catholic school in association with the Government of France offering primary school, middle school and high school.
Two mottos that show our action: Insieme, which means together, and Serviam, meaning I will serve. It consists of developing in our students the sense of collective action and service. This is why we use cooperative teaching methods. We have several international exchanges, pastoral projects, all of it in a calm and relaxing atmosphere, leading to school success, conviviality and spiritual fulfillment.
Students benefit from an executive staff that keep watch over pupils. In addition to the teachers that are paid by the French government, the school has a President, his assistant, a principal on each level, and educational personnel in charge of the school organization.
Primary school is composed of three levels of kindergarten and five grades of primary classes. We care about serenity and closeness, which is the reason why our kindergartens have their own courtyard and their own restaurant hall.
Primary school work is carried out in association with middle school, so that the students will be ready for their passage to the 6 th Grade.
MIDDLE SCHOOL
Middle school hosts around 500 pupils in a pleasant and structuring atmosphere. Catechism is offered to all the pupils, whether they are Christian or not. This project aims to announce the Evangel, to witness to believers' faith, to dialogue with students and to allow them to live their own spiritual experiences.
Pupils have a silent time every day at the beginning of the first lesson.
All are required to study and do their homework at least one and a half hours per day.
Other regular celebrations are added to our daily routines to create a safe and calm atmosphere, befitting from self learning and development.
6th Grade is a year of integration with Middle School.
During this first year, pupils are no more than 27 students per class.
They are accompanied in a personal manner by their teachers and their executive personnel in order to learn how to get the daily rhythm at Middle School.
Courses
From 5th to 3rd Grade, foreign languages are reinforced to all the students.
5th and 4th Graders have their lessons of English and German or Spanish by groups with a reduced number of pupils to have easier speaking lessons and to facilitate projects.
All the students study English at 6th Grade and then German and Spanish since 5th Grade.
They can also study latin since 5th Grade,
Chinese since 4th Grade and Italian since 10th Grade.
We also have Pastoral lessons named with the same name of our international project, Ursuline World School. These lessons are made in Spanish, English and German with 9th Graders, in addition, to their regular lessons of catechism and subjects of languages.
Exchange
All the students have an exchange when they are at the 8 th Grade of Middle School with one school from another European country, usually Germany, Spain, Wales, Cyprus, Ireland, the Netherlands
HIGH SCHOOL
High school is only composed of 400 pupils, which promotes unity, nearness, cooperation and serenity. This is why we also decided to keep reasonable reduced numbers of students in 10th Grade with no more that 28 pupils per class. High School students are trained to become joyfu responsible and exemplary adults, capable of working together serving others. They are all called to contribute and participate in the school's life.
Exchange
School are proposed to have international exchanges, especially with other Ursuline schools around the globe. English is also reinforced during the first school year of High School to facilitate this spirit of international openness.
Future Career Preparation
During the Senior Grade, students work their final tests throughout conferences, personal interviews, optional and additional lessons… They also enjoy a yearly forum of discussions on heir future career.
We want to offer to our pupils a wide variety of possibilities, devices, tools and experiences so that they will access to the right careers they need. We struggle to create a working atmosphere that will be ritualized, routinized, relaxing, so that they will be concentrated and attentive
MIDDLE SCHOOL / HIGH SCHOOL: ACTIVITIES
Theater
Cross competition
Cinema Club
Astronomy Club
Ecology Club
International project, with 13 exchanges per year and a big Ursuline global network